#1 Combo Bouncer Moonwalks Houston: Fun for Kids AND Adults!
If you are looking for a wide selection of combo bouncer moonwalks Houston, Jump Monkey's Party Rentals has you covered. For every type of event you're planning, we make renting combo bounce houses and moonwalks in Houston simpler than ever. We ensure you have everything you need to make your event special, whether you are holding a birthday party, family reunion, school event, or corporate event. With our combo bounce houses and Houston moonwalk rental, we bring all the fun and entertainment to your party or event. Combo bouncers and Houston moonwalks are fun, but we also have the most water slides, bounce houses, concessions, tables, chairs, and much more.

Give your child the present they really want when their next birthday rolls around: a themed Houston moonwalk combo bounce house from Jump Monkey's Party Rentals! The sight of a huge inflatable set up at your event will excite attendees of all ages. All our combo bouncer moonwalk rentals in Houston meet or exceed industry standards, giving you the assurance that comes from working with a business that is fully licensed, insured, and committed to you and your party attendees' safety. That means that when you entrust our seasoned firm with your party rental needs, you won't ever have to worry about dirty, broken, or unsafe equipment.

We are pleased to bring our high-quality rentals to Harris County's neighboring communities and all of Houston, Texas. We will deliver enjoyment in the form of combo bouncers and affordable moonwalks Houston children and adults can enjoy for hours on end. We are here to help you sort through all your fantastic rental options, so get in touch with us right now! Whether you are looking for party combo bouncers or moonwalks Houston, a princess-themed jumper for your little princess's upcoming birthday party, we are here to assist! Choose the ideal combo bounce house for your occasion by perusing our online selections and using our simple scheduling tool.
Cotton Candy Combo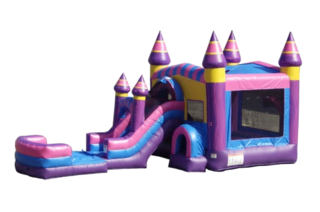 Blue Ice Combo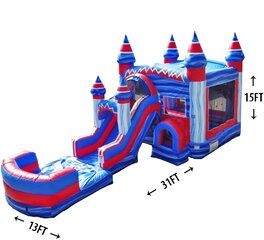 The Coolest Collection of Combo Bouncers and Moonwalk Rentals in Houston
At Jump Monkey's Party Rentals, we are committed to providing you with the broadest range of combo bouncer and moonwalk rentals in Houston for any event. We provide a wide variety of themed party moonwalks Houston that are sure to be a hit at any event. Organizing a celebration for a superhero fan? Then you need to see our Batman jumper, which has all your favorite superheroes. Need an indoor combo bouncer or moonwalk in Houston that girls will adore for an indoor tea party event? We have a pink castle bouncer and a pink princess castle that would thrill any female gang. Even better, we have kid-friendly toddler combo bouncer moonwalks Houston that are safe for tiny jumpers!

Jump Monkey's Party Rentals will be there with the moonwalk Houston fun and excitement, no matter what your party's theme, spending limit, or time constraint. We often send our inflatable combo bouncers to neighborhood parks like Levy Park, Arthur Storey Park, Eleanor Tinsley Park, or any Houston Parks and Recreation Department venue. We deliver our combo bouncers and cheap moonwalk rentals in Houston to elevate any event across the city.

Choose from the dazzling assortment at Jump Monkey's Party Rentals, your all-inclusive party rental company, for the combo bouncer moonwalks for rent in Houston that event planners, parents, school administrators, and business owners depend on. Our variety of combo bouncer and Houston moonwalk rentals will make your event an unforgettable experience for everyone, whether you are throwing a grand opening and want to keep the kids in attendance entertained or just want to keep your own kids busy over a long holiday weekend.
Reserve Your Cheap Moonwalk Rentals in Houston
Our knowledgeable team is ready to help you navigate your options and choose the ideal combo bouncer rental for your theme, budget, and guest list. Houston families rely on us for the best price cheap moonwalk rentals in Houston for a variety of events. We are honored to have participated in countless gatherings over the years and to add some excitement to a variety of special events like slumber parties, summer camps, church youth group activities, school field days, and everything in between.
We collaborate closely with clubs, daycare facilities, churches, the Houston Independent School District / Houston ISD, and other organizations to organize fun events all year long. While our indoor alternatives can be used for a variety of events that keep the small ones out of the sun and having fun, our combo bouncers, and cheap moonwalks in Houston TX for rent are the ideal addition to outdoor events like festivals, fairs, or fundraisers.
Parents and kids can rely on us to provide age-appropriate options, such as our well-liked toddler combo bouncer rentals in Houston, for an enjoyable and secure experience. Our Sesame Street inflatable transports the kids into the world of their favorite Muppet characters, like Elmo and Oscar the Grouch, while our Barn Yard combo bouncer lets the little ones think they're feeding pigs and riding horses! Our staff is confident that we offer the ideal moonwalk rentals in Houston Tx that will keep your entire guest list entertained and having a ball, regardless of the theme or occasion.
Why Choose Us for Your Houston Moonwalks Rentals
Although there are many companies for Houston moonwalks rentals businesses in the area, there is a reason why so many people choose to rent combo bouncers and moonwalks from us. We have been bringing joy to thousands of backyards, schools, churches, businesses, and neighborhoods throughout the city for years. What matters is that Jump Monkey's Party Rentals offers excitement in the form of cheap moonwalks rentals in Houston, which is ideal for all events no matter the budget. It doesn't matter what the theme, budget, or guest list looks like, our selection has you covered.
Our business is locally owned and maintained by a family, and we employ amiable locals. We know what it takes to have a good time while still being aware of the risks. You can be sure that we are completely licensed and insured to conduct your event, whether it is in neighborhood schools or public parks, thanks to our team of experts. We have the inventory needed to cover just about any event or location. If you don't believe us, simply look around to see all the fantastic reviews from our satisfied clients who rent combo bouncers and moonwalks Houston, year after year. Our reputation speaks for itself. Look no further than Jump Monkey's Party Rentals, our superb assortment when you need to find indoor combo bouncers or moonwalks Houston Tx amuse many children.
We promise that your experience with us when renting combo bouncers and moonwalks in Houston will be satisfactory. All the moonwalk rentals Houston we offer are commercial-grade and come from the best suppliers in the business. Lead-free, fire-resistant vinyl was used to make everything. Before and after every event, each unit is meticulously cleaned and sanitized. If the unit is broken, smelly, or moldy when our guys arrive, do not worry. Let us take care of the entertainment for your event so you do not have to worry about anything. Once the event is over, our delivery staff will return to pick up the combo bouncer or moonwalk rentals in Houston TX, and quickly get out of your hair. Call Jump Monkey's Party Rentals and let us handle the heavy job of keeping the kids occupied for hours on end so you do not have to worry!
How to Reserve Combo Bouncer and Moonwalk Rentals Houston TX
It has never been simpler to reserve your combo bouncer and moonwalk rentals Houston TX kids AND parents enjoy! Make your reservations for everything you need for the party around-the-clock, from almost anywhere, using our fully interactive website, which functions exactly like any other booking platform available online today. Browse our website and click the red "Add to Cart" button to get started, whether you're on the move with your smartphone, watching TV on the couch with your tablet, or taking a break at work with your computer. It's that simple!
To reserve our combo bouncer and moonwalk rentals Houston TX kids love, simply follow the directions below:
View the available combo bouncers and Houston moonwalks.
Click the "Add to Cart" button in red.
Select the time and date of the event.
Enter the address and event details.
Pay the minimal deposit required.
Sign the electronic agreement
That's all there is to it; just a few easy steps, just like ordering anything else online. To make sure you have everything for your event, our system will send a few confirmation emails and possibly even some SMS messages on your rental. Give us a call if you need to add anything in the days before your event. Our team would love to help. We will contact you with a delivery schedule as the chosen event date approaches and give over some quick reminders and tips regarding our combo bouncer and Houston moonwalk rentals. Please let us know immediately if there are any specific instructions for our delivery team so we can work out the details. Booking combo bouncers and moonwalk rentals in Houston Tx, which are fun all year long, could not be easier!
Book a Combo Bouncer or Moonwalk Rental Houston: Bringing the Fun to You
Book with us for your next combo bouncer and moonwalk rental Houston. Our rentals have been providing entertainment to events across the county for years. There is a good chance that you have spotted our company's trucks on the highway carrying the hippest combo bouncers and moonwalks Houston Tx has to offer. We provide combo bouncer and moonwalk rentals to people in residential, business, educational, and recreational settings as well as to churches and other organizations. The popular Levy Park, Sam Houston Park, Buffalo Bayou Park, and many other parks managed by the Houston Parks and Recreation Department have all been visited by our delivery teams. If you plan to have your event at a pavilion or shelter in one of the nearby parks, be sure to review all the criteria.
We provide options for all grade levels and service many private schools in addition to the Houston Independent School District. Young children in elementary school and older students in high school can participate in our combo bouncers and moonwalks in Houston, Texas. Students in colleges adore our combo bouncers and moonwalks as well! We frequently make deliveries to the Universities of Houston, Rice University, and Texas Southern. Our jumpers are a necessity because school field days are so much fun! Just get ready to have fun when our boys show up.
At events for all the main professional sports teams, such as the Houston Texans at the NRG Astrodome, the Houston Astros at Minute Maid Park, or the Houston Rockets at the Toyota Center, you may anticipate seeing our combo bouncer s in Houston TX selections. Our consumers and we both adore the local professional sports scene. Our business takes great pride in the fact that our favorite teams, athletes, and coaches turn to us first. You should put your trust in us to manage your event by providing the best Houston moonwalk rentals.
In addition to providing services to many residents of Harris County who are prepared to rent combo bounce houses or moonwalks in Houston, we also provide services to all the other communities, including Spring, Cypress, Katy, Jersey Village, Aldine, Klein, Bear Creek, Tomball, and Magnolia. Numerous communities surround Houston: thus, if you do not find your city listed above or on our service region page, please give us a call as it is likely that we can arrange delivery to your neighborhood.
The following zip codes are part of the Houston delivery area: 77001, 77002, 77003, 77004, 77005, 77006, 77007, 77008, 77009, 77010, 77011, 77012, 77013, 77014, 77015, 77016, 77017, 77018, 77019, 77020, 77021, 77022, 77023, 77024, 77025, 77026,
Questions And Answers About Our Combo Bouncer and Moonwalk Rentals in Houston, Texas, For Special Events
There are numerous things to consider when choosing the combo bouncer or moonwalk rental in Houston and deciding which is the ideal fit for your occasion. To assist clients on their journey, we have produced a list of some of the most often-asked questions over the years. Here are a few inquiries we frequently get about our alternatives for a combo bouncer or moonwalk rental Houston can rely on for a good time, while there are certainly many more that could come up:
How much do you charge to rent a combo bouncer or moonwalk?
A: The size, design, and duration of the moonwalk rental all affect our costs. Every budget, theme, and event may be accommodated by a variety of price points that we are pleased to give. We offer reasonably priced options including the World of Disney Bounce House, which starts at $130, and the Disney Castle Bounce House, which starts at $125. Although we are aware that many clients are looking for affordable combo bouncer and moonwalk rentals in Houston, Texas that kids will adore, we also promise on-time delivery, cordial customer assistance, and many hours of entertainment.
Does the advertised price include setup and delivery?
A: Generally speaking, yes. Although installation is usually included in the pricing, there are situations when extra delivery charges may apply if the order is being delivered outside of our typical service region. Based on the distance traveled prior to the event day, we'll let you know about any additional costs that might apply. Sales tax is NOT included in the advertised price. Add the rental to your cart and go to the checkout page to view the total cost, including tax, when you are ready to reserve a combo bouncer or moonwalk rental Houston loves and to see the full price. Give our staff a call to explore your alternatives if you would like a personalized quote for the requirements of your particular event.
In between rentals, do you clean your jumpers?
A: Definitely! You never have to be concerned about using soiled or outdated items with Jump Monkey's Party Rentals. Each rental experience feels like jumping on a brand-new moonwalk because we take great care in keeping our high-quality, industry-leading selections sanitized, clean, and looking their best. Before and after each use, we thoroughly clean down each rental. We hold ourselves to the best standards in terms of sturdiness and cleanliness, which makes us Houston's top choice for renting a durable combo bouncer moonwalk.
Do you offer combo bouncers and moonwalks for kids of specific ages?
A: We offer options that are entertaining for people of ALL ages as well as rentals designed for certain age groups, such as our incredible selection of combo bouncers that Houston, Texas children adore. Our toddler selections include moonwalks that appeal to all genders and age groups, such as the princess moonwalk and the barnyard inflatable combo bouncer. Children, preteens, and teenagers all appreciate the bright and colorful Carnival Frenzy inflatable that we carry because it is suitable for all ages. For everyone who enjoys dancing the night away, our combo bouncer and Houston moonwalks can be paired with Bluetooth-activated speakers and LED lights!
We encourage you to contact our knowledgeable team if you have any further inquiries so they can provide you with more details. We are here to make the process of renting a combo bouncer or moonwalk Houston families utilize all year round as simple and practical for you as we can. Do not forget that we also have a fantastic selection of water slides and bounce houses!
Tips for Combo Bouncers and Moonwalk Rentals in Houston Tx Parks
In Houston, Jump Monkey's Party Rentals may be found bringing the good times to any event. We cannot say we blame our customers for taking their combo bouncer moonwalk rentals in Houston to neighborhood parks. We enjoy delivering to Houston's public parks, which are among the best in the nation. Sam Houston Park, Hermann Park, Memorial Park, Levy Park, Buffalo Bayou Park, and other parks commonly feature our combo bouncers and moonwalks.
It is vital to keep in mind that some Houston parks demand you to provide your own electricity to keep your moonwalks inflated throughout the party, even though we love our local parks and have a great relationship with the Houston Parks and Recreation Department. If you intend to have your party or event at a nearby park, check the park's rules and regulations to confirm their rental policy for inflatable combo bouncers and moonwalks. By providing a generator in your rental, Jump Monkey's Party Rentals can assist if you are obliged to supply your own power source. We are an all-inclusive party rental company, so when you reserve a combo bouncer in Houston with us, we'll make sure you have everything you need to create an excellent party!
Affordable Combo Bouncers and Moonwalks Houston Customers Can Trust: 5-Star Reviews
With thousands of events under our belts and a ton of delighted kids and parents who adore our reliable, inexpensive combo bouncers and moonwalks in Houston, we have made the decision to gather a few reviews for you to peruse at your leisure. But do not just believe us! Explore all the well-known review websites, social media, and even our Google listing for extra information.
Knowing that they can count on us to deliver their combo bouncers and Houston moonwalks on schedule, every time, makes our clients adore doing business with us. When our staff finishes setting up, hours before the start of your party, they are aware of this and anticipate that it will be clean and ready to go. By providing dependable, reasonably priced, and incredibly entertaining services and options that cater to all events, we take the stress out of party preparation. Choose Jump Monkey's Party Rentals to get the best combo bouncer and moonwalk service in the Houston metro region, and we will make sure your entire experience is one to remember.
We are without a doubt the ideal staff to assist you in hosting an incredible fiesta for people of all ages, regardless of your needs for party supplies or economical combo bouncers and cheap moonwalk rentals in Houston, Tx loves! Here are just a few of the reasons why we're the top-rated business in the neighborhood for a combo bouncer Houston can't get enough of:
"Extremely professional, excellent communicator! For my son's 8th birthday, the bounce house was a success! Shane set it up so beautifully and quickly that even the adults enjoyed it! We'll be your repeat customers!" -S. Trout
"For the Charger Fest at Pin Oak Middle School in March 2022, Jump Monkey's Party Rentals were our only choice. They went above and above what we expected, making our first significant in-person event in more than two years a big success. Following their attendance at our festival and viewing pictures, a large number of individuals inquired about their inflatables (for upcoming events). Can't wait to employ them once more!" -L. Colvin
"Shawn was quite cordial and spoke with my grandson, who was completely taken aback by The Cowboy inflatable. The setup was quick. He and his friends had a terrific time despite the poor weather!" -S. Marshall
Parks to Visit in Houston, Texas
Houston, Texas, is home to a variety of beautiful parks where visitors can enjoy nature, engage in outdoor activities, and relax with family and friends. From sprawling green spaces to unique mosaic-adorned parks, there is something for everyone to enjoy. If you're looking to explore the natural beauty of Houston, here are some parks you should consider visiting:
Washington Ave./Memorial Park: Known as one of the largest urban parks in the United States, Memorial Park offers a wide range of recreational activities. With over 1,500 acres of land, visitors can enjoy jogging and biking trails, tennis courts, a golf course, and picnic areas. The park also features a stunning arboretum and the Houston Arboretum & Nature Center, where visitors can learn about the local flora and fauna.
Smither Park: For a unique and colorful park experience, Smither Park is a must-visit. The park is adorned with vibrant mosaics created from repurposed materials like bottle caps, seashells, and broken ceramics. Every corner of the park, including play areas, performance stages, and covered spaces, is a work of art. The Memory Wall, spanning the entire length of the park, provides the perfect backdrop for colorful photoshoots.
Levy Park: Located in the Upper Kirby neighborhood, Levy Park is a popular urban park that offers a range of activities for all ages. The park features a unique children's area with a giant stone slide, a spherical jungle gym, tunnels, and grassy mounds. In addition to the playground, visitors can enjoy an activity cart, library, dog run, and a variety of food trucks that rotate throughout the week. Levy Park is a great place to spend a fun-filled day with family and friends.
Donovan Park: Situated in the Heights neighborhood, Donovan Park is a neighborhood playground built by the local community. The park offers wooden playsets, benches, and tables surrounded by tall trees, providing ample shade for visitors. The park's convenient location near biking and jogging trails makes it a favorite spot for families to gather and enjoy outdoor activities. It's also within walking distance of several fantastic restaurants.
Hermann Park: Located near the Museum District, Hermann Park is a well-known destination for both locals and tourists. The park offers a serene escape with beautiful gardens, a reflecting pool, and scenic walking paths. Visitors can explore the Japanese Garden, enjoy paddle boating on McGovern Lake, or take a ride on the Hermann Park Railroad. The park is also home to the Houston Zoo, Miller Outdoor Theatre, and the Houston Museum of Natural Science, providing plenty of entertainment options for all ages.
Houston's parks provide a perfect retreat from the bustling city, offering opportunities for relaxation, outdoor activities, and exploration of nature. Whether you're looking for a peaceful stroll, a picnic with family and friends, or a place to engage in sports and recreational activities, Houston's parks have something for everyone to enjoy.