The Best Bounce House Rental Houston Has to Offer
You have found your match if you are seeking the best bounce house rental Houston has to offer! For a variety of reasons, including our enormous selection and commitment to offering commercial-grade, spotless, and high-quality rentals, Jump Monkey's Party Rentals should be your first pick for bounce house rentals Houston. We are a family-owned and -operated company that is honored to provide bouncing fun and excitement to the local community. We have the best Houston bounce houses, often known as fun jumps, spacewalks, or moonwalks, for your event in Houston, Texas.
Our experienced professional bounce house Houston rental staff takes extraordinary pride in being able to guide our customers through their booking experience. Our top goal is always keeping everyone safe. With every event, we make sure you get only the best, most thoroughly cleaned Houston bounce house. Remember that we offer a wide range of event rental services, so browse through our variety of bouncers, combo bouncers, tables and chairs, inflatable water slides, concessions, and more! These are sure to make a fantastic addition and time you rent a bounce house in Houston Tx from us.
Pink/Purple Balloon Bouncy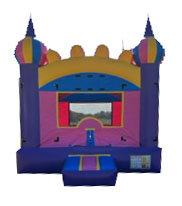 Blue /Orange Bouncy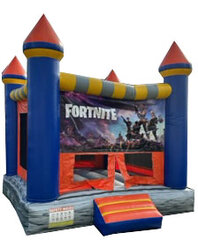 Warrior Obstacle Course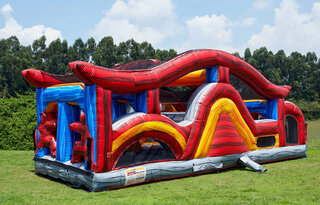 Blue Arctic Bounce House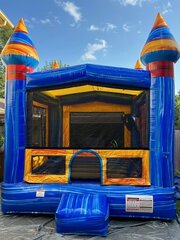 Try Us for Your next Houston Bounce House Rental
No matter the celebration, you can be sure you will find the ideal Houston bounce house rental your event requires from the many options available. We enjoy providing fun and excitement to events across the city and observing the utter joy on children's faces when they see us deliver a large bounce house Houston TX.
Jump Monkey's Party Rentals is the ideal option for bounce house rentals Houston Tx, our customers are sure to love our bouncers and party extras. Kids and grown kids/ adults are sure to have a lot of fun in one of our top-of-the-line Houston bounce house rentals while our team makes sure your event is perfect. Organizing a princess-worthy celebration? Our selection is sure to satisfy your little princess and make their special day that much better. During the celebration, everyone can hop along with their favorite Disney characters. You can be sure that we have the bounce house Houston you need to make it the finest party ever, whether of the kind of event you are holding or the number of guests on the guest list.
The #1 Company for Your Next Bounce House Houston
Why choose inflatable bounce house rentals in Houston that do not offer a variety of options when every party and event is different? Let us deliver the smile with your next bounce house Houston. Our combo bouncers are just one of the many sizes and themes we provide to let our customers achieve the unique event experience they desire and deserve. They have a ton of features, such as dry and wet slides with fun interactive pop-ups and an indoor basketball hoop. For those sweltering summer months, our combos can also be used as a water slide. Who knew that these exciting bounce houses would be so enjoyable?
Additionally, we provide professional guidance! We are aware that organizing a party can be difficult, particularly if you have concerns or are unsure of your exact needs. In response, we are here to help with your next bounce house in Houston. Each stage of the process will be explained to you by us. When you're ready to start planning your inflatable bounce house rental in Gonzales, you can do so quickly and easily online. Simply choose your event date, pick the inflatable bounce house rental Houston of your choice, add it to your basket, and then proceed to the checkout. We remove the stress and uncertainty associated with party planning by providing free, punctual delivery and takedown. Contact us right away to receive the kind, respectful, and expert service you deserve and the greatest bounce houses in Houston!
Guidelines for Organizing a Bounce House Rentals Houston
Here are some suggestions to aid our customers in organizing their bounce house rentals Houston:
Pick the best rental company: It is crucial to go with a dependable and reputable company when renting bounce houses Houston, such as Jump Monkey's Party Rentals, which has a large selection of bounce houses and other party rentals. We are a locally owned and run business with deep ties to our neighborhood.
Pick the right Houston bounce houses: Pick a bounce house that is suitable for the age range of the partygoers. We specialize in a toddler bounce house rental Houston, while also having bigger bounce houses appropriate for older kids and even adults.
Pick a location: Make sure there is adequate room for the bounce house rental Houston Tx. Make sure the space is level and flat, devoid of any sharp items or garbage, and consider the surface type.
Verify the availability of power sources: Since Houston bounce houses and party rentals need a power source, make sure the rental firm has a generator or that there is an outlet close by.
Book early: Since bounce houses are a popular party rental item, book early to guarantee availability on the day of your event.
Consider adding additional rentals: To improve the party atmosphere, consider adding additional party rentals such as inflatable slides, obstacle courses, or carnival games.
Safety first: Be sure to abide by the rental company's safety guidelines and always keep an eye on the Houston bounce house to ensure the security of the partygoers.
Remember that adding a water bounce house rental Houston is a terrific way to increase the enjoyment at your event, but safety should always come first. You may guarantee a successful and fun celebration for everyone by employing these suggestions and a trustworthy rental business.
How to Rent a Bounce House in Houston
It should just take a few minutes of your time whenever you are ready to reserve your next Houston bounce house rental because the process is so simple. Even better, you can complete it directly on our website or by calling our office and speaking to a helpful event consultant, depending on which option is more practical for you. Simply complete the steps below to complete your reservation with us after looking through our variety of bounce houses. Here are some pointers:
Look through our available bounce houses and select one you like.
To begin, click the blue "Book Now" button.
Choose the date and times of your event, including the beginning and end times.
Detailed information about both the event and the customers.
Put the final additions on your reservation by paying the minimal down payment and electronically completing our rental agreement.
Once you have finished our website's interactive booking system will immediately send you confirmation emails and, if appropriate, text messages. To make sure our Houston bounce house rental goes as smoothly as possible, we will also send you a few follow-up emails in the days before your event. Just give our office a call if you have any queries or want to add anything to your order.
Houston Inflatable Bounce House Rentals: Delivering Fun
Our staff has been spreading joy around Houston for many years. Our trucks frequently cruise the streets delivering Houston inflatable bounce house rentals that the locals love. Whether it is a kid's birthday party in the backyard or a significant community event, chances are you will see one of our branded delivery vehicles with our premium inflatables.
We frequently bring our cheap bounce house rentals Houston to the nearby public parks. Just make sure to confirm any rules or limitations they may have, as most of them may require a generator to power the inflatable blower while it is in use, as well as insurance coverage. We frequently visit parks including Hermann Park, Levy Park, Buffalo Bayou Park, Donovan Park, Arthur Storey Park, and many more Houston area parks. All information on the local parks in the area is available on the Houston Parks and Recreation Department website. Just let us know when the party will be held so we can make the necessary arrangements.
Along with the several parks, we also deliver to our neighborhood schools and churches as well! In Houston communities, both public and private schools regularly hold field days. Additionally, Texas Southern University, Rice University, and the University of Houston are some of our favorite colleges and frequently uses our crew for campus-wide events. You can be sure that many people rely on Jump Monkey's Party Rentals to manage their events when it comes to their Houston bounce house rental. We also work with sports teams! All around fun to be had with our inventory.
For inflatable bounce house rentals Houston, we deliver everywhere and everywhere in the Houston Metro Area, including Spring, Cypress, Katy, Jersey Village, Aldine, Klein, Bear Creek, Tomball, and Magnolia. If you do not find your city listed above or on our service region page, please give us a call as it is likely that we can arrange delivery to your neighborhood.
The following zip codes are part of the Houston delivery area: 77002, 77003, 77004, 77005, 77006, 77007, 77008, 77009, 77010, 77011, 77012, 77013, 77014, 77015, 77016, 77017, 77018, 77019, 77020, 77021, 77022, 77023, 77024, 77025, 77026,
Why Rent Houston Bounce Houses from Us?
When looking around, you can frequently wonder why you should pick us to rent a Houston bounce house. Choosing the best party rental business can make a world of difference when planning a party or event in Houston, Texas. Anyone looking for Houston bounce houses for their upcoming event should consider Jump Monkey's Party Rentals. Here are some reasons why:
Huge Variety: Jump Monkey's Party Rentals has a vast variety of moonwalks, water slides, bounce houses, and other party rentals. Whether you are searching for a conventional bounce house or something a little more unusual.
High-quality bounce house Houston, Tx: We take pride in offering rentals that are clean, commercial grade, and of superior quality. You can be confident that the unit delivered to your event will be the safest Houston bounce house you rent.
Positive Customer Reviews: Our team has a solid reputation in the Houston area and has received a lot of praise from happy clients. The positive feedback demonstrates our dedication to providing excellent customer service and pleasure.
One-Stop Shop: we stock a comprehensive selection of party rentals, including tables and chairs, tents, and concessions, in addition to Houston bounce house rentals. As a result, you can easily get everything you need for party rentals from them in one place.
Jump Monkey's Party Rentals is a fantastic option for bounce house rentals in Houston. You cannot go wrong with our extensive inventory, high-quality rentals, positive reviews, and the ease of a one-stop shop.
Questions and Answers about Bounce Houses Houston Kids Love
Below are some of the most typical inquiries from clients wanting to rent a bounce house Houston kids adore. Here are a few tips to assist you as you organize your event but call us if you have any further worries or inquiries.
What is and how does a bounce house operate? An inflatable building made to be jumped on and bounced around in is called a bounce house. People can jump around inside the construction after it has been fully inflated.
What is the maximum age and weight limit for bounce house rental Houston Texas? Some bounce houses may have different age and weight restrictions. However, most bounce houses have a weight restriction of 150–200 pounds per person and are made for kids between the ages of 3–12. Many units can support between 1000 and 1200 lbs.
What is the price of renting a bounce house in Houston? Houston bounce house rental rates vary according to the size and type of bounce house, how long the rental is for, and delivery fees. The usual price range for a day is $120 to $275, prices may vary.
How many hours can I rent a bounce house in Houston Tx? Our standard rate is for one day, but we can add more time, such as the whole weekend. Please contact a team member if you need a longer rental duration.
Must I supply my own power supply for bounce house party rentals Houston? Yes, clients are required to supply their own power source so that the blower can run continuously while in use. A normal 110/120-volt household outlet with a minimum of 15 amps is needed, a 20 amp outlet is suggested. A GFCI circuit breaker or outlet must protect the outlet. We also rent portable generators if the appropriate electrical supply is not available.
Can I erect a bounce house in a Houston public park? Before erecting a bounce house, it is vital to verify with the park administration as rules and regulations differ from park to park. While some parks demand a permit, others completely exclude bounce houses.
How far in advance should I reserve a rental for a bounce house? Particularly during the busiest party seasons, it is advised to reserve a Houston bounce house rental as early as possible to guarantee availability. Booking at least two to three weeks beforehand is typically a good idea. For quicker results, click the Order by Date option to see what is available for the date of your celebration!
Customers that rented bounce houses in Houston, Tx gave us five stars.
See why there are thousands of satisfied clients since we started many years ago and why so many people trust our business for a bounce house. Below are a handful of our many devoted, pleased clients, but you can read all of them on Google, Facebook, and even Yelp. We are adored by a number of neighborhood parents, schools, churches, businesses, and organizations. Like the others, put your trust in us for your event!
The procedure was by far the simplest. They were prompt with pickup and delivery. The delivery men were friendly and helpful. I am certain that I'll use Jump Monkey's Party Rentals again in the future! Nia
This is the first time my husband and I have used Jump Monkey's Party Rentals, and the experience was excellent throughout. I heartily endorse your business to anyone searching for professional help with their event needs. Christine
On the phone and in their delivery, they are consistently professional. They have fulfilled a few orders for me for both private and professional events, and they are always a delight to work with. Davis and Ariel
The History of Houston, Texas
Houston, Texas, is a vibrant city with a rich history that has shaped its identity as a major cultural, economic, and industrial hub in the United States. From its humble beginnings as a small town to becoming the fourth-most populous city in the country, Houston's journey is a testament to its resilience, growth, and diverse heritage.
Houston was founded in 1837 by Augustus and John Allen, who acquired land at the junction of Buffalo and White Oak bayous[2]. The city quickly became the temporary capital of the Republic of Texas and thrived as a regional transportation and commercial center. It played a vital role during the American Civil War, serving as a logistical base for the Confederacy and witnessing a population increase as blockade runners operated from the city[2].
The real transformation of Houston began after the war, with the development of railroads that opened up new avenues for trade and commerce[2]. These rail connections expanded the transportation options for both freight and passengers, leading to significant job growth and economic opportunities. By the late 19th century, Houston had emerged as an important business center in Texas, hosting the state's first State Fair and experiencing a population surge[2].
In the early 20th century, Houston's destiny took a decisive turn with the discovery of oil fields in East Texas. The establishment of oil companies and their offices in Houston solidified the city's position as a major player in the energy industry[2]. The year 1912 marked another milestone with the opening of Rice Institute (now Rice University), the first institute of higher learning in the Houston area. This period also saw the development of iconic buildings, both residential and commercial, showcasing the city's progress[2].
Throughout the early 20th century, Houston continued to grow and attract immigrants, particularly from Mexico. This trend persisted into the 1920s, with many settling in the Second Ward of the city. The period also witnessed the development of Hermann Park, a public green space that remains a cherished landmark today. In 1928, Houston gained national prominence by hosting the Democratic National Convention[2].
The following decades brought further advancements and milestones for Houston. The city experienced rapid urbanization and industrialization, with the construction of oil refineries along the Ship Channel, making use of the city's advantageous location near waterborne shipping[4]. The growth of Houston's economy and population continued, fueled by its status as a major center for the energy, healthcare, aerospace, and technology sectors.
Houston has also been shaped by its diverse communities and cultural heritage. It is home to a vibrant arts and cultural scene, with numerous museums, galleries, and theaters. The city celebrates its multiculturalism through various festivals and events, showcasing the contributions of different ethnic groups.
Today, Houston stands as a dynamic and thriving metropolis, known for its world-class medical facilities, renowned universities, and a diverse population. The city's spirit of resilience and innovation continues to drive its growth and ensure its place as a prominent global city.
In conclusion, the history of Houston, Texas, reflects its transformation from a small town to a major metropolitan city. From its early days as a regional hub to becoming a global leader in various industries, Houston's story is one of perseverance, diversity, and progress. As the city