Water Slide Rentals Houston
Plunge into fun with Jump Monkey's Party Rentals for the best water slide rentals Houston! We have a vast range of inflatable water slide rentals Houston Tx, and a professional team that will help you choose the best Houston water slides for your next event. Our family-run business takes pride in providing high-quality, commercial-grade inflatable rentals for all events in Houston Texas. Our team members will provide a helpful, cordial, and punctual service that you can rely on. We are fully insured, so you can hire us with confidence knowing that we share your concern for your guests' safety.

An inflatable water slide rental Houston is the ideal attraction for a summertime party. Our Houston water slide rentals are the best way to stay cool and beat the Texas heat. Young or old, your guests will be lining up to take a cool trip down a water slide Houston. You can book everything you need for your next event in a few simple clicks, thanks to our assortment of party and event rentals! We have top-notch rentals that are sure to make your party a success, from concessions, tables and chairs, games, bounce houses, and combo bouncers. Simply add the water slide rentals Houston residents like for the ideal summertime backyard experience.
Blue/Green Palms Water Slide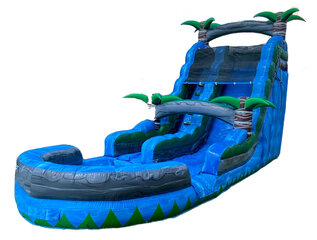 Dolphin Water Slide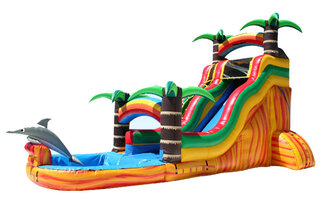 T-Rex Water Slide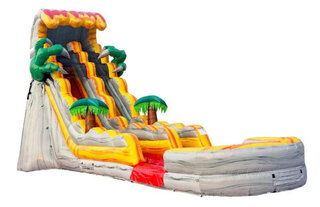 Blue/Red Palms Waterslide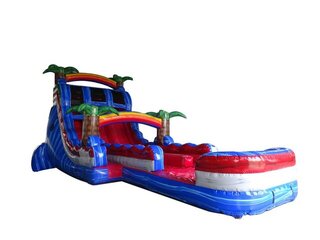 Green Cali Palms Water Slide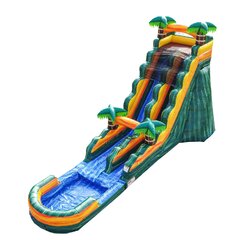 Cotton Candy Combo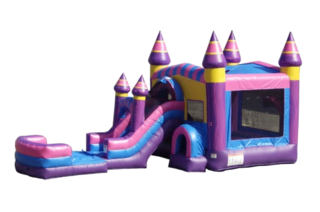 Blue Ice Combo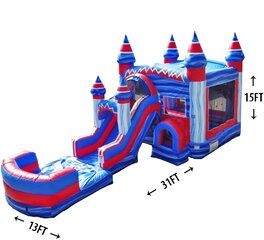 Unicorn Water Slide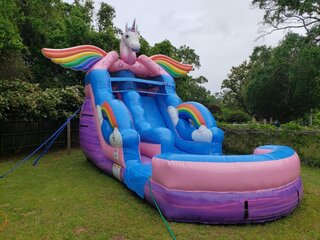 Tropical Double Lane Water Slide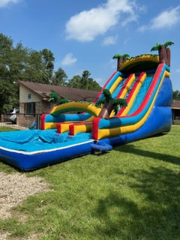 Stay Cool with A Water Slide Rental Houston
We all know that Houston can be hot; it is one of the things we love about our city! However, outdoor gatherings can get uncomfortable, particularly during the summer heat. Let us help you beat the heat, Houston; Jump Monkey's Party Rentals has the water slide rental Houston needs! We offer a range of colors, themes, and sizes so you can find the ideal one for your celebration.
We have single and dual-lane options that are sure to make your event the best you have ever experienced. Check out our massive two-lane water slide rentals in Houston that anyone from toddlers to teens are sure to love. If you want to be the talk of the town among youngsters and hip parents, choose us for your next water slide Houston Texas. Also, check out our combo bouncers that include an attached slip-and-slide for added pleasure. Perfect for backyard celebrations or sporting team parties when you want to bring the water park to you.
Children of all ages will have endless hours of entertainment thanks to two slides, a splash pad, and a basketball hoop! Want to shock your audience and incite some friendly competition? That's exactly what our enormous 33' racer water slide will do! When you choose our water slide rental Houston for your next event, get ready for some drenching, crazy fun.
The Best Water Slides for Rent Houston
Along with having the best water slides for rent Houston has to offer, we also provide top-notch customer service. It all begins with the fact that we are a family-run company with years of experience. We are experts in event rentals, and we like assisting members of our community in planning gatherings that their guests will remember. All the waterslides in Houston consumers adore are produced in the United States by reliable companies like Bouncing Angels and other well-known ones.
It is easy to get started if you are ready to reserve your water slide rentals in Houston! You can select the waterslides for rent in Houston that you want, put them in your cart, then check out using our online reservation system. It is that easy! From there, our skilled team will handle the rest. Be prepared to be astounded by our huge water slide rentals Houston, as well as by our polite and knowledgeable staff.
Booking Water Slide Rentals Houston Tx
Here are suggestions to aid you in booking a party with water slide rentals Houston Tx:
Select the ideal rental provider: It is crucial to go with a dependable and reputable party rental provider, such as Jump Monkey's Party Rentals, which has a large selection of water slides Houston and other party rentals. We are a locally owned and run business with deep ties to our neighborhood.
Choose the right waterslide in Houston: Choose the inflatable waterslide that is suitable for the age range of the partygoers. Some water slides are specifically made for toddlers, while others have bigger slides that are appropriate for older kids and even adults.
Choose a location: Make sure there is adequate room for the water slide rental to be set up. Make sure the space is level and flat, and clear of any sharp items or garbage, and consider the surface type. Because of the height of the slides, be sure there are no power lines nearby.
Make sure there are electrical outlets nearby or that the rental firm has a generator available. Water slides rentals Houston Tx need a power supply. Typically, you need a circuit with a capacity of at least 15-20 amps, while some larger slides require a 20 amp circuit.
Water sources: Ensure that you have a garden hose that is long enough to connect to the soaker hose that is fastened to the inflatable and a water supply that is nearby.
Reserve early: Especially during the summer, water slides in Houston are a popular party rental item, so be sure to make your reservation far enough in advance to ensure availability on the date of your party. Book as long in advance as you can because they make excellent suggestions for field trips and other events at schools.
To improve the party experience, think about adding additional rentals such as bouncy houses, obstacle courses, or carnival games. For the sweltering summer months in the Houston heat, our snowball concessions are fantastic adds.
Safety first: Comply with all safety recommendations given by the rental provider and always watch over the slide to protect the partygoers' safety.
Remember that adding a bounce house to your party is a terrific way to increase enjoyment, but safety should always come first. You may guarantee a successful and fun celebration for everyone by employing these suggestions and a trustworthy rental business.
How to Reserve Houston Water Slide Rentals Kids Will Love
It should only take a few minutes of your time whenever you are ready to reserve your Houston water slide rentals, the process is so simple. You can complete it directly on our website or by calling our office and speaking to a helpful event consultant, depending on which option is more practical for you. Simply complete the procedures shown below to complete your reservation with us after looking over our selection of water slide rentals Houston. Here are some pointers:
Choose a water slide Houston rental from our assortment.
To begin, click the "add to cart" button.
Choose your event's date and timings, including the beginning and end times.
Choose overnight or multi-day for your water slide rental Houston Texas.
By making the minimal deposit payment and electronically completing our rental agreement, you can complete your reservation.
Once you have finished the simple steps, our website's interactive booking system will immediately send you confirmation emails and, if appropriate, text messages. To make sure everything with our water slide rentals Houston runs as smoothly as possible, we will also send follow-up mails prior to your event. Just give our office a call if you have any queries or want to add anything to your order.
Let Us Deliver the Fun with Our Waterslide Rentals Houston
Our staff has been spreading joy around the Houston area for years. Our trucks frequently cruise the streets of Houston, offering inflatable water slide rentals that the city's children love. Whether it is a kid's birthday party in the backyard or a significant community event, chances are you will see one of our delivery vehicles out there with our waterslide rentals Houston.
We frequently bring entertainment to the nearby public parks. The parks in Houston, Texas include wonderful shelters and pavilions where you may host a party or gathering. Just make sure to confirm any rules or limitations they may have, as many of them can want you to provide a generator to power the inflatable blower while it is in use, as well as insurance policies. We frequently visit parks including Hermann Park, Levy Park, Eleanor Tinsley Park, and Sam Houston Park. All information is provided on the available local parks in the area on the Houston Parks and Recreation Department website. Just let us know when the party will be so we can make the necessary arrangements. Just be aware that certain parks do not permit the installation of water slides at some sites, so be sure to check before making a reservation with us.
Along with the parks we visit, our neighborhood schools and churches adore us as well. Additionally, the University of Houston is one of our favorite colleges and frequently uses our crew for campus-wide events. Be certain that others like Rice University, Texas Southern University, and Houston Christian University rely on Jump Monkey's Party Rentals to manage their events when it comes to water slides for rent Houston. We also work with sports teams like the Houston Texans and Houston Rockets! Our selection of inflatable water slide rentals in Houston makes for nonstop fun.
For inflatable water slide rentals in Houston, we deliver anywhere in the Houston area, including Spring, Cypress, Katy, Jersey Village, Aldine, Klein, Bear Creek, Tomball, and Magnolia. If you do not see your city listed or on our service region page, please give us a call as it is likely that we can arrange delivery to your neighborhood.
The following zip codes are part of the Houston delivery area:
77002, 77003, 77004, 77005, 77006, 77007, 77008, 77009, 77010, 77011, 77012, 77013, 77014, 77015, 77016, 77017, 77018, 77019, 77020, 77021, 77022, 77023, 77024, 77025, 77026,
Why Choose Us for Your Water Slide Rentals In Houston?
Choosing the correct party rental business can make all the difference when it comes to planning a party or event in Houston, Tx, so if you are looking for water slide rentals in Houston, give us a chance. Anyone looking to rent a water slide in Houston for their upcoming event might consider Jump Monkey's Party Rentals. Here are a few reasons why:
Variety: Jump Monkey's Party Rentals has a large variety of moonwalks, water slides, bounce houses, and other party rentals. You are sure to find it here, whether you are searching for conventional waterslides in Houston or something a little more unusual.
Jump Monkey's Party Rentals takes pride in offering commercial-grade, spotless, and high-quality rentals, including waterslides. You can relax knowing that everyone at your event will have a fun time on your next water slide rental Houston Texas.
Excellent Customer Reviews: Jump Monkey's Party Rentals enjoys a good reputation among Houston residents thanks to a large number of glowing testimonials from delighted clients. The feedback they get demonstrates their dedication to providing excellent customer service and pleasure.
One-Stop Shop: Jump Monkey's Party Rentals provides a vast selection of party rentals, including tables and chairs, tents, and refreshments, in addition to renting waterslides in Houston tx. As a result, you can easily get everything you need for party rentals from them in one place.
In general, Jump Monkey's Party Rentals is a terrific option if you want cheap water slides for rent in Houston. You cannot go wrong with a waterslide rental Houston thanks to their vast selection, top-notch rentals, fantastic reviews, and ease of a one-stop shop.
Frequently Asked Questions about Houston Water Slides
We have collected a list of the often-asked questions from past clients who were seeking Houston water slides for a summer celebration. Here are a few to get you started on the planning process but call us if you have any further worries or inquiries.
How does a water slide operate and what is it? A water slide is an inflatable object created to be an inflated version of a typical slide at a jungle gym or another such place. People can climb up to the platform and then descend the slick slope into the big catch pool or inflated landing at the bottom after the structure is inflated with air.
What is the maximum age and weight to use a water slide? The age and weight restrictions change based on the slide. However, the majority of units have a weight restriction of roughly 150–200 pounds per person and are intended for kids between the ages of 3 and 12. The majority of units can support between 600 and 800 lbs total, or about 2-3 people at a time. To prevent injuries, no more than one rider may slide down at once while waiting for the other rider to clear the landing.
How much does it cost to book a water slide in Houston? The price to book a Houston water slide varies based on the size, whether it has a single or dual lane option, how long it is rented for, and the delivery expenses. Regular daily rates range from $280 to $800 with FREE overnight. One more day can be added for just 20% more!
How long can I reserve a water slide? Our standard rate is for one day with free overnight, but we can add more time, such as the whole weekend. Please contact our office if you need a longer rental duration.
Is renting a waterslide safe? Yes, providing you adhere to the safety instructions given by our delivery personnel and those printed on the inflatable itself. These regulations frequently state prohibitions on things like going over the weight limit, letting kids climb up the walls, and using the slide in severe weather.
Is my own power source required to rent the water slide? Yes, clients are required to supply their own power source so that the blower can run continuously while in use. If a normal 110/120 volt household outlet with a minimum of 15 amps is needed, a 20 amp outlet is suggested. A GFCI circuit breaker or outlet must protect the outlet. You are required to supply or hire a portable generator from us if appropriate electricity is not available.
Can I erect a wet slide in a Houston public park? Before erecting a bounce house, it is vital to verify with the park administration as rules and regulations differ from park to park. Water slides are not permitted at all in some parks, whereas they are required in others.
How far in advance should I reserve a rental for a water slide? In order to guarantee availability, especially during the busiest party seasons, it is advised to reserve a Houston waterslide rental as early as possible. Booking at least two to three weeks beforehand is typically a good idea. For quicker results, click the Order by Date option to see what is available for the date of your celebration!
Customers who have rented a water slide in Houston have given it five stars.
See what satisfied clients have to say since we started many years ago and why so many people trust our company for a water slide for rent in Houston. You can read below, or you can read all of them on Google, Facebook, and even Yelp. Jump Monkey's Party Rental is trusted by neighborhood parents, schools, churches, businesses, and organizations. We have held the top spot for water slide rentals Houston for such a long time for a reason. Like the others, put your trust in us for your event!
Repeat client. We adore using Jump Monkey's Party Rentals for our rentals. Excellent communication, punctual delivery and pickup, and spotless rentals! Definitely going to use again. -K. Keller
Fantastic experience! For our grandson's birthday, everyone definitely liked the water slide! Adults and children. Definitely a happy client! –A. Crochet
The procedure was by far the simplest. They were prompt with pickup and delivery. The delivery men were really friendly and helpful. I'm certain that I'll use Jump Monkey's Party Rentals again! –N. Cuti
Fun Things to Do in Houston During the Summer
Houston, Texas, offers a plethora of exciting activities and attractions to enjoy during the summer months. From outdoor adventures to cultural experiences, there's something for everyone in this vibrant city. Whether you're a local resident or a visitor, here are some of the best things to do in Houston during the summer.
Visit Buffalo Bayou Park: Explore the scenic Buffalo Bayou Park, where you can go hiking, biking, or simply enjoy a leisurely walk along the trails. Rent a kayak or paddleboard to navigate the bayou's waters, or have a picnic in one of the park's picturesque spots[1].
Spend a Day at Galveston Island: Escape the summer heat by heading to Galveston Island, located just a short drive from Houston. Enjoy a beach day, swim in the Gulf of Mexico, or explore the historic Strand District with its charming shops and restaurants[1].
Discover Houston's Museum District: Beat the heat by immersing yourself in the cultural treasures of Houston's Museum District. Explore world-class museums like the Museum of Fine Arts, Houston Museum of Natural Science, and the Children's Museum of Houston. You can also take advantage of free admission days offered by some museums during the summer months[2].
Enjoy Outdoor Theater: Experience the magic of theater under the stars at the Miller Outdoor Theatre. This open-air venue offers a variety of free performances, including concerts, dance shows, and plays. Pack a picnic and enjoy an evening of entertainment in a beautiful outdoor setting[1].
Cool off at Water Parks: Houston has several water parks where you can beat the summer heat and have a splash-tastic time. Typhoon Texas and Wet 'n' Wild SplashTown are popular choices offering thrilling water slides, lazy rivers, and wave pools for hours of fun and excitement[3].
Explore Houston's Culinary Scene: Indulge in Houston's diverse culinary offerings during the summer. From food trucks to award-winning restaurants, the city is a haven for food lovers. Don't miss the opportunity to savor local delicacies such as Tex-Mex, barbecue, and international cuisines that reflect the city's multicultural heritage[1].
Visit the Houston Zoo: Spend a day with family or friends at the Houston Zoo, home to thousands of animals from around the world. Explore various exhibits, watch animal feedings, and learn about wildlife conservation. The zoo also offers interactive experiences like giraffe feeding and encounters with sea lions[3].
Attend Summer Festivals: Houston hosts a variety of summer festivals, showcasing art, music, food, and culture. From the Houston Caribbean Carnival to the Houston Shakespeare Festival, there's always something happening in the city that will pique your interest and provide entertainment for all ages[2].
Cool Down at Splash Pads: Take the family to